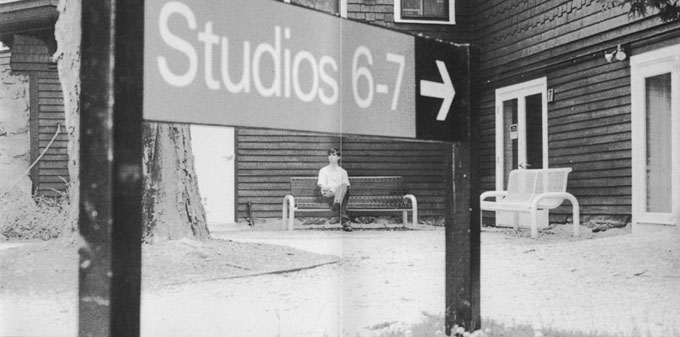 however small the amount, we all owe something to someone and 57 livingston is no different. when we had our first party way back in the fall
of 1997, it was an important occasion because it marked our first real attempt to 'settle in' after the long and arduous move from boston. trying
to make this party emblematic of this new and somewhat awkward liminal space that was (and is) buffalo, we grasped firmly to certain remnants
of our cultural past. one of these things was the inspirational music of don lennon. many of you might be acquainted with this remarkable
singer/songwriter cum international pop superstar, but for those of you who aren't, let it suffice to say that this former headman for the boston
pop trio the umpteens was born to party. now, by citing this often misused phrase, i do not mean to imply that he is of the college drunk-in-the
bare-bulb-kitchen ilk. no. this man, in both his life and songs, delves deep into the hidden recesses of collective entertainment and brings forth
an almost sublime concept of what a party really is: ontologically and experientially. as this is not intended to be a don lennon 'fan page' (there
are already hundreds), we will keep this short and let don speak for himself. but let it be known that every party that occurs here at 57 livingston
owes a debt to this man and his art--"party coordinator" rings true through every moment preceding that first guest and "party all the time" keeps
us dancing through the night until we begin to come down and dream about that "party in september."
kudos, don.
don's first album, maniac, is available on martin philip records, po box 15097, boston, ma 02215.
his second s/t album can be ordered from amazon.com as can the astounding new record "downtown'.
here are three mp3 files of the aforementioned tunes, all copyright 1997, don lennon and martin philip. don't let this stop you from buying these albums, friends. that's the point, remember...
party coordinator
party all the time
party in september
addendum 5/31/02:
a good deal of time has passed since i scribbled this (four years) and don has continued to put out amazing records (two). it seems that his name is circulating and people are finally getting the idea. go don. i remember the first time i saw the umpteens so many years ago and even then not-yet-don was stunning in his focus. now, from parties and friends to rock clubs and shows to the cult of celebrity and fawning fans... there's a meta-theme here that's waiting for some exegetical maniac to pull apart and piece into some coherent whole. maybe greil marcus can take it on. in the meantime, let it be said that no car should last the summer without blaring 'dave mathews band comes alive'. this is literally and figuratively the most compelling song of the year. last year it was pinback's 'penelope', in case you're wondering.

this information was brought to you by gordon merrick. recently opening for don here in buffalo, i felt that many things were coming together. the last time that happened, it was opening for the umpteens in boston and we were all much younger.