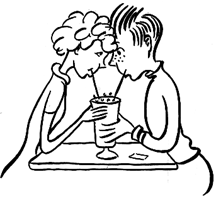 WHAT TO DO/SEE/EAT

We want this trip to be a vacation for all of you, so we've provided some information (places to stay, places to eat, things to see)

Things to Do:
http://www.rockport-fulton.org/

Go Kayaking
http://www.kayakrockport.com/

Go Birding
(you can see around 200 species a day in spring)
http://www.rockport-fulton.org (click on "birding")


To See:
http://www.rockport-fulton.org/ and click on "Things to Do" (List of 51 things)

BIG TREE
Visit a 2,000-year old tree measuring over 38 feet in circumference. Take Park Rd. 13 in Lamar and follow the signs (very close to the hotel/hall, and pretty remarkable--ed.).

ARANSAS NATIONAL WILDLIFE REFUGE
Take Hwy. 35 North to FM 774 turn right and follow signs. (35-40 miles) Interpretive Center. Admission.

GOOSE ISLAND STATE PARK
Great for fishing, touring, camping and sightseeing. Huge lighted fishing pier. Seasonal Birding Tours.

To Eat
Apple Dumpling
118 N Magnolia
Rockport, Texas
Soups, salads, homemade breads
Mon - Sat, 11am - 3pm.

Duck Inn
701 N. Hwy 35
Rockport, Texas
Tue - Sat 5:30am - 2:30pm and 5pm - 9:30pm; Sun - 5:30am - 9pm
Good place for breakfast (taquitos, biscuits, pancakes)

Hemingway's
http://www.hemingwaysrockport.com/
1008 E. North Street, Rockport
11-2; 5-? daily
Fresh seafood, piano bar (on Thursday, Friday, Saturday night); upscale-ish. Price for dinner: about 25 dollars for an entrée.

Java Bay Caffe'
415 S Austin Street
Rockport, TX
7am to 7pm ~ 7 Days a Week
Good place for coffee and desserts

Latitude 2802
http://www.latitude2802.com/
105 N. Austin
Rockport, Texas
Tuesday-Saturday 5-?
Very good food; I loved the grouper. Price for dinner: about 18.00 for an entrée. (There is a vegetarian pasta dish).
Walking Disttance from The Inn at Fulton Harbor

Alice Faye's
http://www.alice-fayes.com/
106 N Fulton Beach Rd
Fulton, Texas
Very Texas-y, with chicken fried whatever and antlers on the wall.

The Boiling Pot
201 S. Fulton Beach Rd.
Shrimp, crawfish, cajun-boiled seafood, oysters
Pre-allergy Nick loved this place and its rough-and-tumble wax paper atmosphere quite a bit...

Charlotte Plummer's
http://www.charlotteplummers.com/
202 N Fulton Beach Rd
Fulton, Texas (right across from the Inn)
Lots of seafood (also burgers and things)

Rocky Hill Bar & Grill
301 N Fulton Beach Road
Fulton, TX
Seafood and TexMex
Open Wed - Sat for lunch and dinner, Sunday features a "Brunch & Mimosa" menu